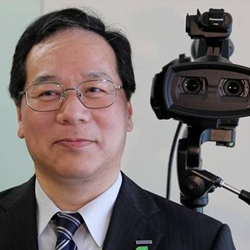 On Location in Osaka
TV-Special: The Technology of 3D Television
Osaka. Filmed in the country where high-tech is at home, Airtime Dubai prepared a thirty-minute television special on "The Technology of 3-D Televsion". The program was timed to coincide with World Cup 2010, first major sports event ever to air live in 3D. Movies in the Third Dimension have long since revolutionized the cinema experience. And the expectations of audiences around the world.
As the first TV sets trickle into stores, consumers are asking questions. Is this the beginning of a new era in entertainment? Or just a passing trend? How does it work? What do I need to watch? What does it cost? In this 30-minute high-tech report, filmed with the top experts, Airtime Dubai provided answers.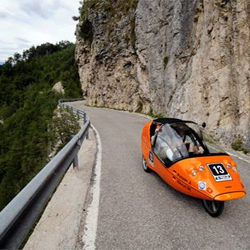 On Location in the Alps
TV-Special: Hybrid Automobiles compete in Hardship Rallye
Rovereto. Airtime devoted a full 30-minute Segment to one of the most unusual rallyes ever held: Electric automobiles racing across the Alps. The first of its kind, this was be a quiet and clean race, where global corporations competed with geeky inventors over a 560 Kilometer route fom Munich, Germany via Innsbruck to Rovereto, Italy.
The experimental cars were subjected to a rugged test, including the 2,000 meter high Jaufen Pass, racing to prove the practicability of this important new green technology. Some were racing on two-wheelers, some on three-, some on four.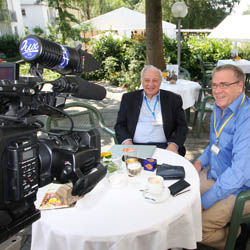 On Location: Annual Nobel Laureate Convention, Lindau
TV-Special: Live with the Laureates
Lindau. When Nobel Laureates from around the world gathered for their annual meeting this year on Lake Constance, Airtime was there. A thirty-minute science special was produced for Al-Jazeera, including extensive interviews with the Nobel Prize winners on subjects ranging from global warming to the responsibilities that scientists bear for the discoveries they make. Many of the participants were questioned about the Arab world and the perspectives for its young scientists. Picture shows Nobel Laureate Prof. Rudolph A. Marcus (Nobel Prize Chemistry, 1992) with Airtime CEO Jay Tuck.
In addition to the thirty-minute program Understanding Tomorrow ( عن كثب ) on Al-Jazeera Arabic News Channel, which is broadcast a total of three times during the week, Airtime also negotiated an attractive broadcast slot on the Al-Jazeera Live Channel Mubasher. There, a discussion with Nobel Laureates on global warming was broadcast live for two hours. Mubasher repeated the broadcast in its full-length twice in the course of the day.
On Location: Games Convention, Leipzig (Germany)
TV-Special: Kids & The Cutting-Edge of Technology
Leipzig. When teenage kids assembled in Leipzig, Germany for the 7th Annual Games Convention, Airtime Dubai was on location. Why? Because computer games are important not only to the teenage gamers who sit at computer screens all day. Computer gaming is big business. Several of Hollywood's major studios earn more revenue with games than with cinema.
Computer gaming is a billion-dollar business globally.
Top management from leading hardware manufacturers such as Intel and AMD travelled to Leipzig to see what the kids were doing - and what they needed. Fact is that the high demands of the computer game industry are a defining moment for the next generation of business laptops and computers.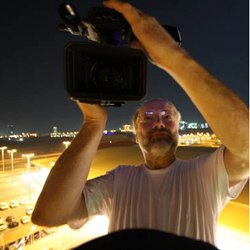 On Location: Civil Defense Expo, Doha (Qatar)
TV-Special: The Technology of Fire Fighting
Doha. The technology of fire fighting, a rapidly growing high-tech field, is of vital importance to countries with huge remote areas to protect, especially if these areas are desert. In the country of Qatar, a civil defense expo takes on special significance as means of preventing and combatting fire are examined.
Lack of water, of course, is the prime problem. But this 30-minute television special featured many other aspects of this field, including how to protect children and the handicapped.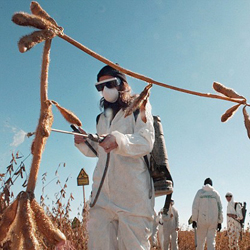 On Location: A Farmer's Field with Genetic Corn
TV-Special: Killing the Crop with Suicide Seeds
Frankfurt. On location at a German genetic crop farm, this special reports on an American agricultural company and its ingenious plan to increase sales. Its seeds are genetically treated so they cannot reproduce.
Farmers who save 20 % of their crop for re-planting will be forced to buy new seed every year, reducing their harvest and increasing their dependence. This insidious discovery is threatening food production in the Third World and could vastly increase hunger in the population. This important segment explains the technology and discusses the dangers.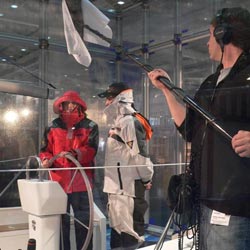 On Location: Hanseboot Yacht Show, Hamburg
TV-Special: High-Tech on the High-Seas
Hamburg. In October 2007 as shipyards and maritime suppliers descended on one of the biggest boat shows in the world, UNDERSTANDING TOMORROW was on-the-scene with anchor Eyad Hamideh and its entire studio crew. The direct broadcast was devoted entirely to cutting-edge marine technology.
Our reports included
- latest satellite & marine navigation
- recreational submarines
- high-tech sails for the high-seas (tankers & freighters)
- bow propellers for parallel parking yachts
- and an interview in the "storm chamber" on protective weather gear (see illustration)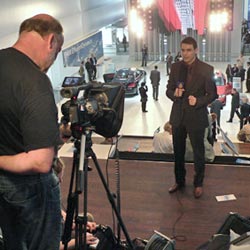 On Location: International Automobile Show, Frankfurt
TV-Special: High-Tech on the Highway
Frankfurt. When international automobile manufacturers gathered in Frankfurt for one of the most important fairs in the field, Airtime Dubai was there. Our editorial team, headed by Holger Douglas of Douglas Film GmbH, gathered first-hand reports and analysis on the cutting-edge developments shaping the automotive industry.
This entire 30-minutes segment was devoted exclusively to high-tech on the highway and how it will affect us all. UNDERSTANDING TOMORROW was broadcast directly from the fair with anchor Eyad Hamideh.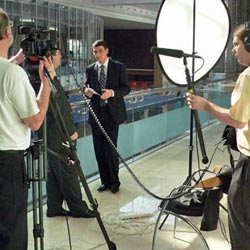 On Location: Arab Health Expo, Dubai
TV-Special: High-Tech Medicine
Dubai. Airtime's High-Tech Television News Magazine UNDERSTANDING TOMORROW broadcast in January 2007 directly from the Arab Health in Dubai. This high-tech medical convention is one of the world's largest, with over 2,100 international companies presenting products and discussing new treatments in cutting-edge technologies.
Eyad Hamideh, television anchor of UNDERSTANDING TOMORROW, presented the hottest news in medicine, including new breakthroughs in the treatment of Parkinson's disease, diagnostic perspectives for molecular imagery and the latest research in genetic diseases in Arab populations.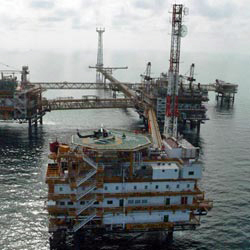 On Location: Direct from Offshore Drilling Rig
TV-Special: High-Tech Energy
Qatar. Eighty kilometers off the shores of Qatar in the Arabian Gulf, Airtime Dubai filmed a special edition of its High-Tech Television News Magazine UNDERSTANDING TOMORROW. The program, dedicated solely to high-tech energy subjects, was produced in the North Field Bravo drilling complex of Qatar Gas, regarded as the largest single gas reserve in the world.
Airtime CEO Jay Tuck, producer Holger Douglas, production manager Steffen Sprengel and anchor Eyad Hamideh flew by helicopter from Doha to the offshore project, accompanied by Sheikh Ahmed Jassim Al-Thani, Chief Operating Officer at QatarGas. All anchor segments, normally filmed at the German studios in Bammental, were recorded on location at the offshore rig.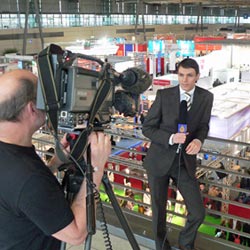 On Location: CeBIT Expo, Hanover (Germany)
TV-Special: High-Tech Trade Fair
Hanover. On 5 March 2008, Airtime Dubai broadcast its second consecutive (An Kathab) for Al-Jazeera News Channel directly from the Trade Fair grounds of CeBIT in Hanover, Germany. CeBIT has long been the largest computer trade fair in the world, where global leaders pilger to present their latest technological breakthroughs.
Consumers come to see the latest in games & gadgets. International corporations come to present their new products and promote their new technologies. The CeBIT Trade Fair attracts researchers and developers from around the world. Above all, it is seen as a barometer for the global high-tech industry.